By Julie Omoyeni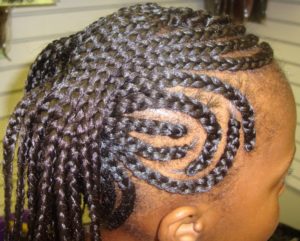 Hair care is one of the challenges faced by adoptive parents of African-American children. Having the right knowledge will enable you to take good care of your child's hair. Taking care of curly or kinky hair is not difficult, if you know what to do. If you follow the guidelines below, taking care of your toddler or teenager's hair will become a more pleasant experience.
Washing and conditioning
You will need a good shampoo and conditioner for African-American hair. There are a lot of great products for this hair texture. You can buy recommended products at any retail store or order them directly online. If you use the right products, they will help to detangle the hair and make it softer.
Wash your child's hair every week if she is not wearing braids. If you wash it too often, it may start losing too much moisture. After washing, apply conditioner and leave for about 20 minutes. This process makes it easy to comb. If your kid's hair is kinky after washing, applying conditioner wil make it soft. Use a light hair cream that will help to keep the scalp healthy. The hair grease will also help to lock in more moisture to make the hair more manageable.


Stick to simple hair styles
If your little girl or boy has long hair, simple styles will make it easier for you to manage their hair. Kids are naturally impatient and may not like to sit still for elaborate hair styles. So, choose styles that are simple and made within a short period. Some of the styles that you can consider include plaits, braids, twist and Afro puffs. If it is necessary for you to create a more elaborate style for a special occasion, you may consider braided cornrows. Braided cornrows may take longer to make but they require very little maintenance. Also, consider a braiding shop for professional service. It reduces the stress of combing every morning and promotes the hair growth.
Low-cut styles are very suitable for boys and they require minimal maintenance. The hair has to be brushed carefully every day with a bristle brush. You can wash your boy's hair everyday during shower if he has low-cut, otherwise, you can consider braiding his hair into cornrows.
Use the right Accessories
Comb your African-American children's hair with a wide-tooth comb or a plastic pick if the hair is short. Comb gently and avoid tugging. Start at the bottom of the hair and loosen tangled portions as you move towards the scalp. Don't use metallic ponytail holders or headbands. You will avoid puling and breakageif you make use of plastic holders and elastic headbands.
Be careful with chemicals and extensions 
It may seem sensible to put a texturizer or relaxer in African-American children's hair to make it easier to manage. However, this is not a very good idea. The scalp and the texture of a child's hair go through some changes until he or she is about 8 years old. The likelihood for damage is high when chemicals are used at this age. If you have to use these chemicals, make sure you look for those for little children and consult with a professional.
Note on Products
Go to ethnic beauty supply store for products for your African-American kids. You can even ask for advice from hair braiders. Shop at other large retail stores like Walmart, Target and Walgreens if you don't live nearby an ethnic beauty supply store.
Reference:
http://www.ehow.com/how_4968076_care-african-american-childrens-hair.html
http://www.blackhealthzone.com/hair-tips-for-aa-children
Resources:
http://www.mynhcg.com/caring-for-curly-coily-kinky-or-biracial-childrens-hair-naturally.html