By Julie Omoyeni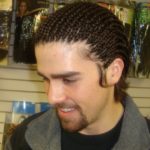 Hair braiding has been around for several years and some styles become more popular from time to time. Trending hair braiding styles are usually creative variations of regular braids or cornrows. Women of all ages (and men too) love these styles because they are cheap to maintain. Their versatility allows the wearer to choose from a variety of styles depending on the look that she wants to achieve.
Braiding is also a good style to choose if you want to give your natural hair adequate time to recover from the harshness of relaxers or other chemicals that are used for hair treatments. The desired braiding effect is basically achieved by laying three strands of hair alternatively over one another. Although there are now a lot of styles, the basic cornrow is done by weaving the hair flat on the scalp with appropriate parting and sectioning.
Trending Hair Braiding Styles for Ladies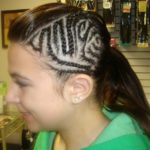 The single or box twist is one of the styles that are popular with today's women. Hair extensions are usually added so as to produce a fuller look. This style can be given a creative finish that makes it suitable for special occasions.
The zigzag is another style that is preferred by younger women. It can be worn for a longer time and is therefore suitable for busy ladies. It always has a beautiful finish no matter how the hair is sectioned.


The box twist can also be combined successfully with the cornrow to produce a stunning effect. It can be pinned up, spiral or curled. This style is recommended for women who have tender scalp. It is also a convenient style in the summer when the weather is humid and hot. This trending hair braiding style will allow your scalp to breathe. If your scalp gets itchy or sweaty, it can be washed and greased without loosening the braids.
Trending Hair Braiding Styles For Men
Men are not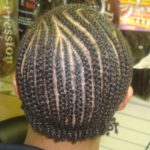 left out in the braiding trend. They usually prefer quick and neat designs like the fish bone or zigzag braids. The average male customer is not choosy unlike the women. They usually just tell the stylist to do any style that looks good. Most male customers will not like to sit in a salon for hours because of a hairdo. Those of them that request for a specific style usually pick the zigzag.
Braids are popular because they allow the scalp to breathe and are also very convenient. If you want to look sassy and up to date, this is the hairstyle that you should be wearing. If you want to enjoy your braids or cornrows, you have to know how to maintain them. Your hair should be washed properly and treated with an appropriate conditioner before putting in cornrows or braids. Heavy hair creams should not be used because they can weigh your hair down and cause flaky scalp. You will be more comfortable if you choose a style that is suitable for the texture and the length of your hair. Put your hair in a scarf before you go to bed and do not leave the braids on for longer than eight weeks.


Reference:
http://www.afrisonet.net/Braids2.html
http://www.natural-hair-care-info.com/african-american-hair-braiding-styles.html
Resources:
http://www.squidoo.com/beautiful-african-braids