By Kehinde Victoria Adegbiyi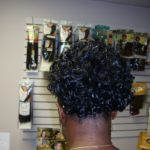 A weave is hair extension that you can add to your hair. You can sew or glue it. The purpose of adding weave is to create length or volume. Weaves come in different colors and lengths and are in two main categories – synthetic and human hair. The synthetic weaves are mainly produced with plastic fibers while the human hair is made with real human hair such as Indian Remy hair, Malaysian hair, Brazilian, Chinese and so on. However, there are some kinds of human hair that are called "mixed blend" because they have some synthetic fiber in them.


Weaves need the same type of care you would give to your own natural hair to keep a polished appearance. The material used to create the weaves will determine how you will care for them. Human hair can be washed and conditioned with same hair products you would use to clean your own hair. You will need to use products specifically made to clean synthetic fibre for synthetic weaves. Proper storage of your weaves is important if you plan to re-use them.


 You should take the following steps to clean your re-usable weaves:
Lather mild shampoo in your hands, and then apply to the hair in other to reduce scrubbing the hair together.
Apply conditioner and leave for a few minutes, then rinsed out with cool water.
Pat excess water from the hair and air dry. If you must blow dry, do not use too much heat and start drying from the roots to the ends to avoid pulling hair while wet.
Spray weaves with a conditioning or finishing spray to keep them soft when you store them away.
Do not brush or comb curly weave. Use your fingers to keep them in place.


Reference
www.wisegeek.com/what-is-a-hair-weave.html
Resources
http://http://www.ehow.com/how_7534095_care-weaves-hair-extensions.html#ixzz29TQLPiLe