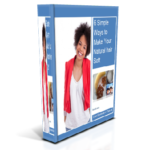 If you are a social media regular, you would have seen the viral picture of a teacher who styled one of her students' nappy hair and posted it on Facebook. The debate is on about whether it was right for her to post pictures of her students on Facebook without parental consent. However, the lesson to take from the post is how to manage your kid's nappy hair.

I grew up in Nigeria where most schools, especially, public schools tell all girls the hair style to wear every week. Every Friday, when the students gather at the assembly for closing, the teacher in charge of moderating the assembly that day called a hair style. In fact, the hair styles have names too, so on Monday, all the girls with braids come in with the same style on a Monday morning. This did not only help control frizz and nappy hair, but it made the girls look adorable in their neatly braided hair styles. Mind you, there was punishment waiting for the student who did not come to school with the required hair style.
In the U.S. public school students do not wear uniform, let alone have a compulsory hair style for kids to wear to school. And, it is understandable that some parents can feel overwhelmed when they don't know what to do or how to control their kid's nappy hair. In this post, I will recommend to ways that you can help your kids and be happy at the same time.

Hire a hair braider's service: To save you the headache and embarrassment, find a local hair braiding shop to take your daughter for nicely braided cornrows. Usually, they last for up to six weeks. Imagine not having to worry for six weeks. All you will need to do during this process is wrap her hair at night and oil it at least once a week.
Do it yourself: With this system, you have to take a conscious effort to braid or style your daughter's hair every week. You can do it on Sundays or Saturdays. When I was growing up in Nigeria, my mother used to braid my hair every Sunday afternoon. When I got into junior secondary school and became a teenager, she would give me money to go to a hair braider. Shampoo and condition your daughter's hair if you don't know how to braid. Once it's dry, section her hair into four. Divide each one into two sections, apply a hair cream or oil and twist. Use a rubber band to keep the twist in place at the tip. You can repeat the same style every week, especially when the child is ten years old or younger.
This is just my little tip for you.
By the way, you can read the teacher's post on Bukola Braiding Facebook page
Leave a comment below if you have questions or additional ways to help our parent community with their children's hair.